In 1960 Penarol of Uruguay played Spain's Real Madrid in what became known as The Inter Continental Cup. This was in effect play off games between the champions of FIFA's most powerful confederations; CONMEBOL (South America) and UEFA (Europe). For the record Real Madrid triumphed and became the first World Club Champions for 49 years.
The first World club Champions were effectively Hibernian from Scotland when they triumphed over Preston North End; 2 v 1 on 13 August 1887 in Edinburgh. It should be appreciated that the Scottish and English leagues were pre eminent in the world at that time. the Uruguayan Primera Division for example did not start until 1900. The Aregentines however formed the earliest known football league championship outside of the UK in 1891.
On 19 May 1888 Renton from Glasgow defeated West Bomwich Albion 4 v 1 in Glasgow to retain the world club crown for the Scots. In 1895 Sunderland AFC travelled to Scotland to play Heart of Midlothian at Tynecastle, as the champions elect from both countries battled it out for the third world crown.
_____________________________________________________________
1894/95
World Championship

Hearts of Midlothian 3 v 5 Sunderland
27 April 1895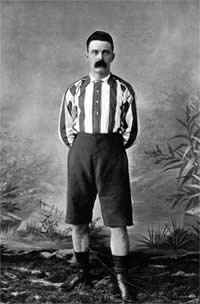 This match had an international flavour as the respective champions of England and Scotland met in Edinburgh. Unfortunately the weather was wretched for after a foggy morning a nasty drizzling rain began to fall. It did not deter spectators however for quite 10,000 turned out and they were treated to some capital football. Sunderland left home shortly after 8am and arrived in Edinburgh at 12-45. All the first team travelled including Scott and Wilson who was injured with Scott fit enough to run the line.
After lunch at the Douglas Hotel there was plenty of time to stroll round Edinburgh before the 4pm start. McCreadie was absent from the Sunderland side and Russell, Begbie and Walker from the home side. Hearts won the toss and Campbell started the game for Sunderland who were the first to show. Taylor then took play to the other end to get in a hotshot that Doig saved well. Hearts attacked again and Chalmers got the ball to Michael who had Doig leaping to a shot which he just managed to catch.
Hearts obviously meant business and set about Sunderland in capital style. Hogg robbed Hannah and sent the ball well down field but a free kick against Hearts stopped their gallop. They were soon back and Scott had a grand shot turned round the post by Doig for a fruitless corner. Auld had a sharp chance at the other end but shot hopelessly wide. Hearts swept down on the Sunderland goal and yet again Doig saved his charge. So far Sunderland had hardly been in the game whereas Hearts were at their best.
At last Sunderland came out of their shell and some grand passing ended with Millar banging in a hard shot that Fairbairn saved. Taylor took play to the visitors end again and Chambers and Michael looked very menacing until Doig kicked away. Moments later Doig was tested again with a shot from Scott. Hannah then rushed up field and centred to Campbell who banged in a stinging shot that shook Fairbairn rigid before he got the ball away. Sunderland were playing better now with Hannah and Campbell working hard.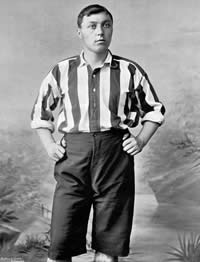 They forced a corner that was cleared by McLaren who got the ball up to Chambers whose shot was saved by Doig. Sunderland attacked again and battles and McLaren were put under severe pressure and forced to concede a corner. When the ball was swung in Johnston met it and sent a high shot over a crowd of players and into the net for Sunderland's 1st goal. Sunderland dominated the play for several minutes and some bad feeling crept into the game with frequent free kicks for trips by both sides. Hearts had a look in and Gow (pictured above) saved splendidly after neat passing by the home side.
Sunderland swept back downfield and the home goal had another narrow escape. Hearts pushed the visitors back and Michael was inches from an equaliser when his hotshot went just wide. Johnston was doing some grand work against the speedy Chambers and Taylor on the Hearts right wing. Hearts got a free kick but they gained little advantage from it. Sunderland attacked again and forced a corner. This was cleared but McNeill got the ball up to Dunlop who sent through to Campbell (pictured above) who scored a grand goal with a fast long shot.
Stung by this reverse Hearts retaliated and Doig saved splendidly just afterwards. Campbell got in a shot that Battles blocked and then Auld sent a fine shot just over the bar. Close on halftime Hearts won a free kick and Chambers and Taylor were probing the Sunderland defence when the halftime whistle went. On the restart Scott missed a chance for Hearts and then Campbell had a goal ruled out for offside. Nice work by Gillespie and Harvie took Sunderland into Hearts territory where Mirk halted their progress.
Michael and Scott tried to force a breakthrough but failed to make much impression. They struggled on however and after Michael had put a shot wide Chambers got the ball up to Taylor who scored rather easily for Hearts. Encouraged by this Hearts forced a corner off Dunlop and Baird managed to find the net but the whistle had already gone for offside. Hearts continued to press and got a free kick for a foul. McLarentook it and had a pot at goal where Doig's fumble allowed the ball to it slip into the net off his hands.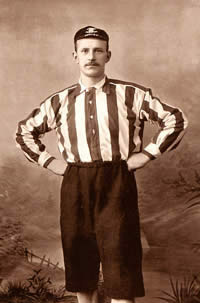 Scenting victory Hearts put even more vigour and dash into their play and it was no surprise when Scott raced away to shoot the home side ahead. Doig (pictured left) stood appealing for offside and made no attempt to stop the ball. Urged on by the wild cheers of their supporters Hearts continued to press for several minutes. Sunderland wilted visibly under the pressure and their play was never poorer than at this stage in the game. Eventually they rallied and slowly forced the home side back and began to trouble the home defence.
Millar raced through and waving Campbell aside took the ball a few yards before cracking it out of Fairbairn's reach to level the scores at 3-3. Almost from the kick off Scott ran nearly the full length of the field with Dunlop snapping at his heels to drive in a hard shot that Doig saved. A dangerous throw by Hearts was cleared as the home side tried all they knew to regain the lead. Sunderland had a brief look in but Hearts were soon back assaulting the visitor's goal until a free kick gave Sunderland some respite.
McNeill's long kick into the home goalmouth was perfectly judged and Campbell had only to glance the ball past Fairbairn to put Sunderland ahead. Baird and Scott retaliated for the home side but Gow and McNeill defended splendidly and they were kept at bay. A tricky run from Hannah took Sunderland well into Hearts territory where Campbell had a great chance but shot far too high. The home side were not done yet and made another spirited effort but found the Sunderland defence far too good for them.
The crowd were beginning to head for home when with only 2 minutes left Sunderland scored again. Harvie got possession near the halfway line and beat Hogg in a fine run towards goal. Fairbairn advanced but Harvie coolly slotted the ball past him to wrap things up for the visitors. The game had barely been restarted when the final whistle went. 
Hearts: Fairbairn, Battles, Mirk, Hall, McLaren, Hogg, Taylor, Chamber, Michael, Scott, Baird
Sunderland: Doig, McNeil, Gow, Dunlop, Auld, Johnston, Hannah, Gillespie, Harvie, Campbell (2) Millar, Hannah
Referee: Mr. Dickson, Wishaw                                      Attendance: 10,000
_____________________________________________________________
Sunderland became world club champions and would effectively hold that crown for 6 years until the next World Championship match was pl;ayed in 1901 when Tottenham Hotspur and Hearts played out a 0 v 0 draw in London. This was the last of such fixtures and the world club title would lay dormant until the 1909 Sir Thomas Lipton Trophy encounters.
Famously West Auckland, another North East of England side won the aforementioned Sir Thomas Lipton Trophy in 1909 and 1911, defeating Juventus of Turin to claim another World Club Crown for our region.
It is not known whether the 1887 to 1901 versions bestowed upon the winners a trophy. We certainly know that the Sir Thomas lipton Trophy version did, being famously housed and then stolen from West Auckland Working Men's Club in 1994. The trophy has yet to be retreived.
FIFA would not be formed until 1904 and the first World Cup finals did not take place until 1930 in Uruguay, who by that time were the Olympic football champions.