Introduction
As The Peoples Game becomes ever more global it is becoming evident that both the financial wealth and image of the top professional football clubs are being shaped by a more expansive outlook. Indeed with an estimated 700m fans worldwide Manchester United did their chances of further converts no harm by winning The Champions League and of course competing in the inaugral World Club Championship in Brazil at the start of this new millennium.
Whilst Sunderland's competitive sojourn into Europe has been so far brief, the 1973 FA cup winning exploits exposing us to the Cup Winners Cup, it is a fact that we have taken on some of the continent's top sides over the years.
We thought that it might be interesting to recall some of the great overseas teams and players we have come up against, with one or two trail blazing highlights that may have passed you by.
Here we go, as Sunderland AFC take on The World!!
___________________________
1890's
From the football clubs formation in 1879 until the 20th Century, opposition from outside England was confined to Scotland. However the club had been due to tour the United States in 1894 and an announcement was made to that effect in the Trenton Times, a New Jersey publication.
It read that notification had been sent to HC Crowther in Philadelphia on 25 June 1894, namely a letter from Secretary Thomas Watson of the Sunderland Association of football Clubs., England stating that the club would probably be touring for 3 months, starting in May for a series of games in New York, Baltimore, Brooklyn, Boston, Washington, Chicago, Fall River, St Louis, Pittsburg and Philadelphia.
The tour never took place presumably due to a lack of finance.
1900's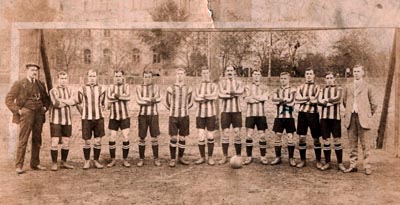 Our first taste of continental action had to wait until 1909 and a tour of Austria, Germany, Czechoslovakia & Hungary. The sojourn started in Budapest where both Ferencvaros and MTK (Magyar Testgyakorlok Kore, translated as Hungarian Circle of Athletes) were defeated before a 5v0 win against Germania in Vienna was followed by our only reverse 1 v 2 against Vienna Athletic. The defeat was partly explained by an apparent heatwave, with the red and whites playing in 90 odd degree weather. In Prague the Deutscher Club was beaten twice before trips to both Munich and Nuremberg in Germany saw resounding victories.
Interestingly enough a lighthearted postscript to the story involved the referees using hooters instead of whistles. The final game had seen Roose, our goalie play in defence with Bob Kyle the then Sunderland Manager as referee.
Funnily enough the England team also toured Austria at the same time with Wearside's Arthur Bridgett playing for the Mother Country.
1910's
In the 1910/11 season Sunderland travelled to Ireland to play the Distillery Club at G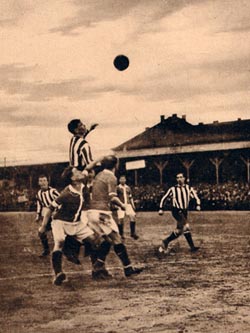 rosvenor Park. The game was won 5 v 2 with the significant factor being the debut of one Charles Buchan in a red and white shirt. He inevitably for a complete maestro scored 2.
Having won the league in 1912/13 and narrowly missing out on the double Sunderland visited the same countries again, but this time there would be no mistakes. Thrashings were the order of the day in a 7 game tour that included fixtures against Blackburn Rovers, Hertha Berlin and Hamburg. Incidentally a souvenir of the game against the Lancashire side was presented and can be seen on display in The Sports Bar at the Stadium of Light.
The tour however was not without incident. It was reported that one of the games in Budapest had been very rough with wing half Billy Cringan sent off. Worse followed in Germany where victory for Sunderland saw them run the gauntlet of a furious Fatherland crowd. Some of our players were punched and kicked as they left the field. Harry Low took matters into his own hands and after severe provocation struck out and broke a fans nose. Alls fair in love and war!!
1920's
With the outbreak of the first world war touring was largely forgotten about although on 1 April 1929 St Mirren arrived from Love Street and inflicted a 0 v 1 defeat on us. The match was deemed to be a benefit for Billy Clunas, with the Scots an obvious choice as recently installed Manager Johnny Cochrane's former club. 29 April 1931 and for the second time in 3 days a North East team travelled to Tynecastle. This time it was Sunderlands turn and a benefit match for The Jambos McMillan. The game ended 1 v 1, it had been a cracker, with Gurney and Connor the stars of the show.
1930's
It wasn't until 1933 that we were on our travels. 26 April and Sunderland entertained Racing club de Paris, whom they beat 5 v 2. A return was contested in the French Capital on 10 May, the red and whites again triumphed, this time 3 v 0. 1934 saw us reign in Spain!!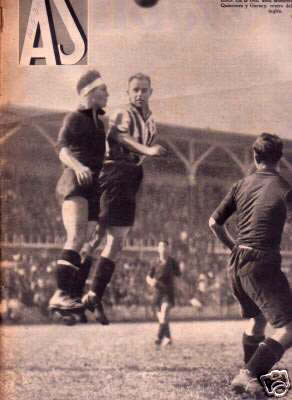 13 May and a game against Athletic Bilbao, the team remember who wore red and white at the suggestion of former Wearside shipyard worker Arthur Pentland. Sunderland gave a fine exhibition for 20 minutes, but it was the Basques through Irarejorri who took the lead on 38. Chacko also scored twice for the hosts. It was a great game and Connor scored 2 for Sunderland, one right at the death. Shaw had scored our first from the penalty spot.
And so to Madrid where 40,000 watched a representative XI tie with the Lads 2 v 2. Ainsley, who notched twice, scored the first after 35 minutes. With MacDougall sustaining a nasty cut over the eye, he had to leave the field. This gave the Spaniards the leverage they needed and an equaliser soon followed.
The final match against a Spanish XI again took place in Madrid, this time we triumphed 3 v 1. Gallacher, Shaw and Connor did the damage, with shaw scoring once more from the penalty spot after an indiscretion by Quincocis. Zamora the famous Spanish goalkeeper played well.
A notable omission from the itinery was a match in Barcelona. This was remedied in May 1936 when The Lads defeated a Catalonian select side 7 v 1 with Gurney and Carter destroying the heartbeat of a "separatist nation".
On 16 September our league efforts were temporarily suspended as Sunderland entertained Glasgow Celtic in a friendly match. One newspaper termed the game "a glorious exhibition of football".
Sunderland had taken the lead through, who else, but Carter, after brilliant work by Duns, on 19 minutes. On 57 Macdonald equalised for the Scottish Giants.
A return match was played on the 30th of the month at Parkhead, where after another brilliant game we succumbed 2 v 3.  The crowd of 13,000 were disappointed to note the absence of Carter, his place taken by Russell.
With the precedent of the 1902 British League Cup, the British Empire Exhibition Cup was competed for in 1938.From Scotland Aberdeen, Heart of Midlothian, Rangers and Celtic competed. From England, Brentford, Chelsea, Everton and Sunderland completed the lineup.
Sunderlands game was against Glasgow Celtic at Ibrox on 25 May in front of 60,000 spectators. After 120 minutes football the game was drawn 0 v 0. The next day saw a replayed game and even though the red and whites took a deserved lead, the Scots powered through in the second period and triumphed 3 v 1.
Glasgow Celtic: Kennaway, Hogg, Morrison, Creaton, Lynn, Paterson, Lynch, Mcdonald, Crum, Divers, Murphy
Sunderland: Mapson, Gorman, Hall, Housam, Lockie, Hastings, Spuhler, Carter, Robinson, Saunders, Burbanks
As in 1902 Glasgow Celtic triumphed overall, this time overpowering Everton 1 v 0 in the final.
1950's
With the advent of the second world war a temporary hiatus was placed on football and it wouldn't be until 1950 and a tour of Turkey that we would re-emerge on the continent of Europe. Competitive club competition and the great Real Madrid were still 5 years away.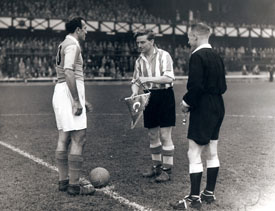 4 games against Besiktas, the Turkish Youth side, Fenerbache and Galatasaray were all won. In August the latter returned the favour and arrived on Wearside for an exhibition match. Sunderland won the game 3 v 1 with Len Shackleton in fine form. The main talking point of the match had been the performance of the Istanbul sides international goalkeeper, 18 year old Seren. His name was on the lips of the 14,830 crowd.
On 4 April 1951 Sunderland flew to Holland to play a Netherlands XI in Rotterdam. The 2 v 1 Wearside triumph was watched by 50,000 people. Ford scored both goals, one a penalty. The team flew back to Gatwick on the Friday, before progressing to Portsmouth for the next league game, a 0 v 0 draw. 16 April, and Sunderland travelled to Pittodrie to play Aberdeen. We lost 1 v 2.
An end of season round of friendlies kicked off on 16 May with Sunderland defeating the Yugoslav side Red Star Belgrade in the Festival of Britain at Roker Park. Although the Iron Curtain country were beaten 1 v 2 they gave a great display of attractive football that was well appreciated by the 24,196 crowd.
An Austrian tour saw Rapid of Vienna triumph 5 v 1, FC Austria win a pulsating game 5 v 4 and a Graz XI, beat the Wearsiders 2 v 1.
On June 6 1951 the Rapid defeat was interesting, as Sunderland witnessed first hand one of the most amazing sights in world football as the Austrian fans started their "Rapid Quarter Hour". The "Rapidviertelstunde" was started on 75 minutes as the whole Rapid support started to applaud frenziedly, and signalled to their players that they could rise above themselves. The cult was born on 10 April, 1921 when Rapid played WAC away and were 5-1 down at half-time. In the 76th minute the score was still 5-3, but the Rapidlers did not give up, turned the game around with "Rapidgeist" and won 7-5. Similarly in 1941 the opponents were Schalke 04 in the German championship final. 3-1 down with 18 minutes left, Rapid won the game 4-3.
Whilst Holland might well be a world footballing power in the 1950's they were an emerging nation, soccer wise, and a 7 v 3 thrashing by Wearside's finest over a Holland "B" outfit at the Olympic Stadium in Amsterdam was followed 2 days later, 8 May 1952, by a much narrower 1 v 0 success over the country's "A" side in Rotterdam. The venue was the home of Feyenoord, affectionately termed "De Kuip" or "the Tub", scene of Peter Reid's Cup winners cup triumph with Everton in the mid 1980's.
On 1 December 1952 Sunderland travelled to The Dell, to play Southampton, in a  friendly match. The game was significant because it was the first time that we had played under floodlights in England. 15,000 supporters witnessed an entertaining 3 v 2 victory.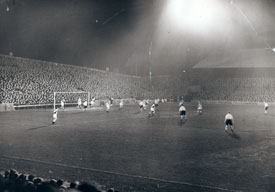 9 days later and it was our turn to unveil the lights, with a visit from Dundee. The game was always entertaining and indeed a novelty for the 34,352 crowd. Surprisingly the Scots led at half time, despite Shackleton scoring the first goal of the game, but we prevailed 5 v 3. 
On 4 March 1953 East Fife visited from Scotland and in front of 37,565 fans turned us over 1 v 3, another floodlit friendly. Man of the match was fifes McLennan. The left half was superb. Just 14 days later and Clyde travelled from Scotland. In front of 12,861 Sunderland triumped 2 v 1. The floodlit friendly matches were now proving popular.
Racing club De Paris visited one week later. Although the lads triumphed 2 v 0 the player who really caught the eye was Amalfi, the French clubs incomparable ball player. The Brazilian inside right gave a wonderful display of controlled football that had the crowd enthralled. Nearly 30,000 watched this game.
End of season friendly games included a trip to Scotland to play a select XI and then a tour of Scandinavia. The sequence started on 16 May in Malmo, with a 5 v 3 victory. It wasnt however without its cost. Goalkeeper Threadgold was carried off to hospital with a 2 inch gash in his chin. Then to Gothenberg  and a 3 v 3 draw with a Swedish XI. At half time the hosts had led 0 v 3 but Wright, McSeverney and Davis brought us "back from the dead". The tour finished in Copenhagan with a 3 v 0 defeat of a Damish XI.
Racing club De Paris were entertained on 21 October 1953 and once more Amalfi played in a 5 v 2 Sunderland win. This time he played well, but was taken off early due to an injury he sustained in a previous game against Spurs.
The beginning of the November saw the Austrian maestros Rapid Vienna at Roker Park. The legendary Hanappi stole the show with a magnificent exhibition that had the Sunderland faithful on their feet in appreciation. The visitors won 3 v 2 and in truth everyone enjoyed the match, even though the lads lost. Over 33,000 witnessed the match, and as well as Hanappi scoring the Vienna goalkeeper was Zeman, who had played for the Rest of the World team against England a few weeks earlier.
October and November 1954 saw us play a string of floodlit friendlies.
In front of 16,077 Sunderland played Falkirk, and in defeating us 3 v 2 the Scots became the first team in the season to score that many goals past us. Then it was the turn of Borussia Dortmund who arrived on the 18 October. In an absorbing game the Germans were defeated 3 v 2.
Danish "touring side" Stoevnet, made up of players from the 3 Copenhagen outfits were thrashed 4 v 1 and a 10 November match against Edinburgh giants Heart of Midlothian ended 3 v 3. The 1954 friendlies ended with a visit to Clyde, and Shawfield Stadium, who defeated us 1 v 3.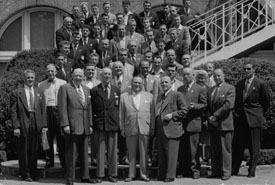 The end of the 1954/55 season saw Sunderland undertake a gruelling 9 matches in a month tour of North America. In total we would win 5 and draw 4.
The first 3 games took place in New York, one in Brookyn where the American League representative side were hammered 7 v 2, Huddersfield Town succumbed 3 v 2 and Nuremburg managed to hold us 1 v 1. Onto Philadelphia and a 3 v 1 victory, before we returned to New York, hammering an American All star team 4 v 1.
Crossing into Canada, Montreal were beaten on their own patch 4 v 2, Huddersfield town drew 3 v 3 in Winnipeg, with 2 further ties in Toronto and Detroit against the past Yorkshire giants.
23 October 1955 and Sunderland travelled to Paris to play Racing Club winning a stormy match 4 v 3. With Shackleton scoring 2 to give the lads a 4 v 2 lead Ted Purdon was kicked as he lay on the ground injured. A fight then broke out between the French goalkeeper and the Sunderland forwards, which incensed the crowd so much that some of them invaded the pitch. The rest of the match was played in an eerie atmosphere of Police patrolling the perimeter.
2 November and First Vienna arrived on Wearside and at 0 v 4 down with only 30 minutes played it looked like the visitors were in for a hiding. Then a fightback by the Austrian champions made the score 4 v 4, and they maintained their unbeaten run against English sides. A crowd of 31,629 were gobsmacked.
By the time Moscow Dynamo arrived on Wearside 14 November Sunderland were going great guns and the championship was definately on. We would fail and this game signalled a downward spiral. However, it should be appreciated that the Russians were probably the greatest club side in the world at this time and contained of course the legendary goalkeeper Lev Yashin. The game was in truth a disappointment and it was a goal 4 minutes from the end that settled the affair against Wearside. Bingham had hit a post earlier in the game, but that was as near as we had come.
Sunderland, mindful of his talent and display a few months earlier tried to sign Hanappi, the majestic Austrian but his FA blocked the deal. One wonders what the impact would have been had he arrived on Wearside. Born in 1929 Hanappi would succumb to cancer at the age of 51 and die in 1980, having won 96 international caps. A tragic end to a truly brilliant career, glimpsed fleetingly by the Roker Roar. From 1954 to 1960 Hanappi won all 7 Austrian Player of the Year titles.
Signing him would have rocked world football, he was that good.
The 1955/56 season ended with a 4 game trip to Israel. Winning 3 and drawing 1. Matches were played in the glorious sunshine of Haifa and Tel Aviv.
Towards the end of 1956 there was light relief from league action with a visit from the brilliant Hungarian side Red Banner (also known as MTK). Their lineup included the incomparable Nandor Hidegkuti, who was magnificent, along with Shack and Bollands in the Sunderland goal. All in all it was an entertaining 2 v 2 draw and 22,698 people went home enthralled by the man who along with Ferenc Puskas, Grosics and Kocsis had destroyed England 6 v 3 and 7 v 1 earlier in the decade just prior to the 1954 World Cup finals in Switzerland. It should be appreciated that at this time Hungary were perhaps the finest footballing side on the planet.
Sunderland entertained the Italian giants Juventus at Roker Park in 1957. The game would end  2 v 0 to "The Old Lady", with Enrique Sivori, then the worlds most expensive player scoring both goals. He had originally cost £100,000 when signed from Argentine side River Plate, lining up alongside John Charles, one of British footballs few Italian export successes.
1960's Onwards
Fairly subdued tours followed in 1960 and 1964 as Switzerland and Winterthur were challenged. Eire & northern Ireland followed, but in truth the age of the high profile friendlies came to an end with the notable exception of our quest to become American champions as the Vancouver Royal Canadians.
True, we did venture to Germany, Italy, Kenya, Norway and Greece, but the teams we played weren't really top notch at that time. Sunderland AFC itself were going through what could be kindly termed a "transitional period".
The Anglo Italian tournaments of the late 1960's and early 1970's brought us into contact with the likes of Napoli and Hannover but this was all small beer in comparison to what was going on elsewhere.
Our fleeting glimpse of European Club football has been confined to 1973/74 and brief moments of glory against Vasas of Budapest and Sporting Lisbon. Recent adventures against the likes of Ajax of Amsterdam, surely one of the worlds finest club sides who opened the stadium of light and Sampdoria have whetted the appetite.
It was also nice too see Sunderland for once playing pre seaosn home games which witnessed the arrival again of Juventus in 2007 to Wearside.
However it is sad that the golden era for Sunderland did not allow us to take advantage of the benefits of competitive global footballing action, and that must now be a future goal. The Peoples Game is huge and its all waiting.
______________________
Conclusion
As we can see Sunderland AFC have come up against some of the best players and teams in the world. From Hanappi to Hidegkuti we have witnessed true class. Legends. The only disappointment is that it hasn't really been in major competitions.
Whilst we have focussed on Sunderland AFC and continental club opposition it is also worth noting that International matches are certainly nothing new to Wearside. Whilst the highest profile is undoubtedly our hosting of matches during the 1966 World Cup series it should be noted that England v Northern Ireland at Roker Park in February 1899 witnessed the biggest thrashing ever given by the Mother Country 13 v 2.
With a new era dawning for the football club it is to be hoped that relatively unknown European and perhaps Global waters can be chartered. The profile of such competition has been considerably enhanced by increased awareness through television.
As with everything in the modern era isolationist policies belong to a bygone era. England's previous renowned insularity has been exposed for what it was…completely wrong!!