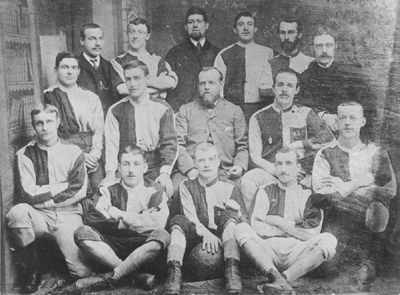 Sunderland AFC circa 1885
Abbs Field was a significant move for Sunderland AFC. For the first time the club was able to charge gate money and it was not unusual for attendances of up to 1,000 to arrive, paying the sum of three pence.
At first the club rented the ground fairly cheaply, some £2.50 in today's money, however, by 1885/86 it had risen to £15.
It was at Abbs Field on 20 December 1884 that Sunderland recorded their highest ever victory, against Castletown 23 v 0 in the Durham Challenge Cup. The club's founder James Allen scored 11 times.
Sunderland played 32 games at Abbs Field the first being against Birtley on 27 September 1884. The last, as main tenants, was against Newcastle West End on 9 March 1886.
As far as we know the picture above survives as the oldest existiing original Sunderland picture/postcard. The 1884 Horatio Street team shot exists only as a print/image.