Introduction
"I should pack it all in. there'll never be another moment like it".
All of Wearside agreed with the above sentiments of Bob Stokoe as Sunderland took on the best teams England had to offer and deservedly beat them all to lift the FA Cup. After 36 long years the most prestigious domestic knockout club trophy in football travelled to Roker Park.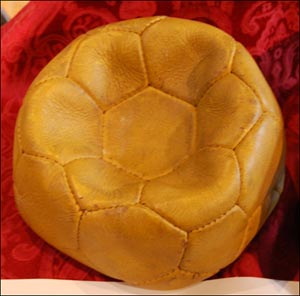 To place the triumph into perspective it is apt to return to the beginning and the arrival of a man who would be hailed as "the Messiah".
Bob Stokoe swept into Roker Park as a man on a mission. After managerial spells at Charlton Athletic, Rochdale, Bury, Carlisle United and Blackpool, whom incidentally he had led to victory in the Anglo Italian tournament, the ex Magpie succumbed to initial defeat at the hands of Burnley.
Sunderland then embarked on a run of 32 games, with only 5 defeats, culminating in a day that Wearside will never forget. Not bad for a side that started in the doldrums, defeated by Stoke in the first League cup hurdle, and searching for only its 5th win in 18 league attempts, on his arrival. From 4rth bottom they would end the season 6th, although at first an outbreak of flu threatened to scupper the season altogether. It is also pertinent to note that on Stokoe's arrival Sunderland hadn't bought a player for over 2 years.
__________________________
FA Cup 3rd Round
Notts County 1 v 1 Sunderland
13 January 1973, Meadow Lane, Nottingham
Attendance – 15,142
In the run up to the 3rd round game Sunderland made a double signing in the shape of Ron Guthrie and David Young however both were ineligible for the Meadow Lane encounter. Bobby Kerr was struggling to be fit with a troublesome back and Denis Tueart had to have 2 stitches inserted in an eye wound sustained in the league match the previous Saturday. Joe Bolton spent 3 days with the England Youth squad but made the trip to Nottingham.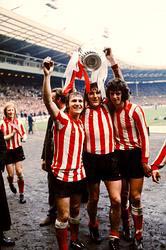 Ironically Sunderland met Notts County midweek prior to the game in a North Midlands League encounter.
At Meadow Lane Sunderland suffered a first half pounding and were lucky to be just 1 goal down at the interval. Les Bradd scored for Notts County after 29 minutes and County held the lead for 50 minutes.
Montgomery made a fine save - a crucial one, Bobby Kerr said later, and then Watson headed in a cross from Tueart after 79 minutes play, having out jumped Needham to score a magnificent goal. Billy Elliott had restored Watson to his old place of centre back, but twenty minutes from the end at Meadow Lane, Bob Stokoe switched him to the attack.
Sunderland were backed by upwards of 2,000 fans in Nottingham with a fleet of 40 coaches taking supporters from the North East.
After the game bob Stokoe announced, amongst other things, that Derek Forster, Ritchie Pitt, Brian Chambers, Keith Coleman and John Lathan were available for transfer.
Notts County: Brown, Brindley, Worthington, Masson, Needham, Stubbs, Nixon, Randall, Bradd, Mann, Carter
Sunderland: Montgomery, Malone, Bolton, Horswill, Watson, Tones, Kerr, Ashurst (McGiven), Hughes Porterfield, Tueart
__________________________
FA Cup Round 3 – replay
Sunderland 2 v 0 Notts County
16 January 1973, Roker Park, Sunderland
Attendance – 30,033             Receipts - £13,280
Ron Guthrie and David Young took over from youngsters Joe Bolton and John Tones as a fast and furious cup tie saw Sunderland prevail at Roker Park.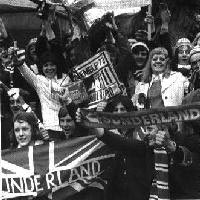 However similar to the Meadow Lane encounter Notts County were at their best in the first half primarily through the use of a man for man marking system and a twin attack of Randall and Bradd that caused the home side substantial problems on the night.
In the 54rth minute Sunderland had the lead. Porterfield won the ball in midfield and pushed it through to Kerr who allowed the ball to run onto Watson. Watson took on the defence raced to the edge of the penalty area and slammed a right foot shot across Brown inside the far post.
The game was still on a  knife edge but the matter was sealed just seconds from time when Kerr played the ball through the middle and with Needham hesitant after intercepting, Tueart stormed into the box to whisk the ball past Brown and in off the foot of a post.
Manager Bob Stokoe was delighted with the performance of his side and the tremendous atmosphere created by the Roker Roar; "this was a great night for the lads and for the fans. Again we did not do too well in the first half, but the second half always matters most and we solved it all then".
Sunderland now had to wait for the outcome of the Doncaster Rovers v Reading cup tie, postponed from the previous Saturday, to find out their 4rth round opponents.
Sunderland: Montgomery, Malone, Bolton, Horswill (Lathan), Watson, Tones, Kerr, McGiven, Hughes Porterfield, Tueart
Notts County: Brown, Brindley, Worthington, Masson, Needham, Stubbs, Nixon, Randall, Bradd, Mann, Carter
Referee: J Rice, Preston
__________________________
FA Cup Round 4
Sunderland 1 v 1 Reading
3 February 1973, Roker Park, Sunderland
Attendance: 33,913               Receipts: £13,650 (Roker Park Ground Record)
Nearly 34,000 welcomed a smiling Charlie Hurley and Reading for the Fourth Round tie. Bob Stokoe predictably made only one change from the previous week's side that defeated Millwall, bringing in Lathan at number 9 to replace the injured john Hughes.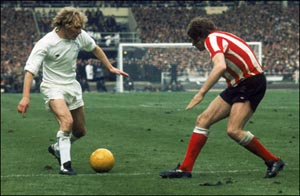 Hulme won the toss for Reading and decided to open the match attacking the Roker End.
From the outset it was evident that the visiting keeper Steve Death was in inspired form. Reading took the lead after just 13 minutes when an in-swinging Cumming corner was back headed at the near post by Chappell the ball looping over Montgomery.
Sunderland drew level just 7 minutes before the interval. Lathan having won the ball from Hulme sent in a strong centre that was pulled down by Tueart. The winger squeezed the ball through the narrowest of gaps to finally beat Death.
With only seconds of the match remaining Sunderland once more had the ball in the net. However this time Lathan was in an offside position and the strike was chalked off.
In advance of the game at Elm Park Sunderland found out that they would, if successful, face either Liverpool or Manchester City away from home in the 5th round. The master of understatement Bob Stokoe was quoted as saying "it's not the sort of game I would have picked"; although history would be with Sunderland whoever they faced as they had defeated City on their last visit to Maine Road and had also dumped Liverpool out of the FA Cup at Anfield in 1960.
Sunderland: Montgomery, Malone, Guthrie, Horswill, Watson, Young, Hughes, Kerr (Ashurst), Lathan, Porterfield, Tueart
Reading: Death, Dixon, Youlden, T Wagstaff (Butler), Hulme, B Wagstaff, Cumming, Chappell, Bell, Hunt, Habben
Referee: J Jolly, Manchester
__________________________
FA Cup Round 4 – Replay
Reading 1 v 3 Sunderland
7 February 1973, Elm Park, Reading
Attendance: 19,793
In the build up to the Reading game Sunderland asked Preston North End manager Alan Ball for permission to approach their trainer-coach, Arthur Cox, with a view to offering him a permanent place at Roker Park.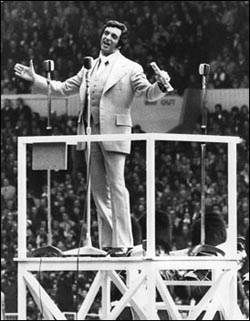 Conversely Arsenal Manager Bertie Mee had asked Stokoe for permission to take the transfer listed Pitt and Coleman on loan to Highbury. It was planned to leave the duo down South after the game at Elm Park.
Bobby Kerr, Dick Malone and Dave Watson all received treatment for knocks sustained in Saturday's drawn cup tie, however they all travelled South as Sunderland left the North East with a party of 15 players at mid day on Tuesday 6 February.
John Tennick estimated that there would be 800 Sunderland fans at Elm Park for the game and subsequently it turned out to be more than double that as the red and whites ranks were swelled by exiles from The Home Counties and the Midlands. The Police would praise the Sunderland support for their partisan but excellent behaviour.
As for the match itself, Watson scored within 80 seconds at Elm Park, a rifled shot that gave Death no chance, after good work by Tueart and Kerr. Tueart got one with a dipping shot and Kerr the third after 29 minutes, a fierce angled drive that went in off the bar. Cumming scored for Reading with a penalty on 78 minutes after Pitt had brought down Chappell.
Sunderland would face Manchester City at Maine Road in the 5th round.
After the Reading match a large contingent of Sunderland supporters gathered outside the players entrance chanting "Charlie, Charlie" until the Irishman and Roker hero appeared to sign some 200 autographs.
"There was a lump in my throat. It was just as though he was one of us", said john Tennick, the Transport Officer for the Sunderland AFC Supporters Association.
Bob Stokoe announced that Sunderland had signed Vic Halom from Luton Town for £35,000.
Reading: Death, Dixon, Youlden, Carnaby (Butler), Hulme, B Wagstaff, Cummings, Chappell, Bell, Hunt, Habben
Sunderland: Montgomery, Malone, Guthrie, Horswill, Pitt, Young, Hughes, Kerr, Watson, Porterfield, Tueart
__________________________
FA Cup Round 5
Manchester City 2 v 2 Sunderland
24 February 1973, Maine Road, Manchester
Attendance: 54,478
Manchester City had beaten the league leaders, Liverpool, in the previous round so they had little concern over whether they met Reading or Sunderland at home in the next round. At that time the three favourites for the Cup were: Leeds 4-1; Manchester City 9-2 and Arsenal 11-2. Sunderland, at 100 to 1, were to beat the lot.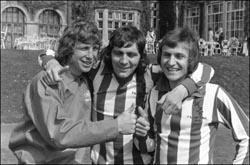 Vic Halom, signed from Luton for £35,000, made his debut in a tough game at Hilisborough a fortnight earlier in which Young was injured. This meant that Dave Watson could once more revert back to centre half for the Maine Road game.
Over 10,000 Sunderland fans made the trip to the North West by road and rail in what was considered the biggest exodus to follow the club since the marathon cup ties against Manchester United in 1964. The expected 45,000 (not all ticket) crowd at Maine Road was expected to be swelled by fans of The Red Devils following the postponement of the first division clash at Old Trafford between Manchester United and Crystal Palace due to a frozen pitch.
At Maine Road before a crowd of 54,478, Montgomery switching direction saved from Marsh who already had his arms raised in triumph. After 16 minutes Towers scored when Summerbee made things dangerous by racing away up the right wing. Tueart was ruffling the City defenders and after a free kick against him, Mickey Horswill nipped in after 36 minutes to loft the ball over Donachie and then lift it past Corrigan.
After this cheeky goal Sunderland were never behind in the Cup run.
Sunderland received a tremendous reception from their travelling support as they took the field for the second half. In the 68th minute Hughes kept his head when clear and scored. City equalised 18 minutes from time when an in swinging corner from Summerbee was turned in by an impeded Montgomery. Towers was sent off in the 83rd minute following a tussle with Horswill.
Manchester City: Corrigan, Book, Donachie, Doyle (Mellor), Booth, Jeffries, Summerbee, Bell, Marsh, Lee Towers
Sunderland: Montgomery, Malone, Guthrie, Horswill, Pitt, Halom, Hughes, Kerr, Watson, Porterfield, Tueart Sub: Chambers
Referee: R Tinkler (Boston)
__________________________
FA Cup Round 5 – Replay
Sunderland 3 v 1 Manchester City
27 February 1973, Roker Park, Sunderland
Attendance: 51,782
Voted by supporters as the greatest game ever seen at Roker Park, this match provided the Sunderland fans with one of those rare "Roker Park occasions".
The Manchester City captain, Doyle, went on record as indicating there was a feeling in the City dressing room that it was to be their night. How wrong he was.
Sunderland were superb and none other than Rodney Marsh famously commented that Vic Halom's Fulwell End screamer, after 15 minutes, was one of the best goals he had ever seen. Billy Hughes made it 2 v 0 just 11 minutes later, hammering a right foot drive past Corrigan with Donachie closing in. Roker Park went crazy.
But you can never control all 90 minutes of any football game and within 10 minutes of the second half City had scored through Francis Lee. Sunderland's reaction was concise. They dusted themselves off and set about scoring a third. With only 12 minutes remaining Billy Hughes slid the ball home at the Roker End when Corrigan could only parry a shot by Tueart.
Bob Stokoe had promised before the match that it would be a night to remember. It was just that.
Manchester City: Corrigan, Book, Donachie, Doyle, Booth, Jeffries, Mellor, Bell, Marsh, Lee, Towers
Sunderland: Montgomery, Malone, Guthrie, Horswill, Pitt, Halom, Hughes, Kerr, Watson, Porterfield, Tueart
Referee: R Tinkler (Boston)
__________________________
FA Cup Round 6
Sunderland 2 v 0 Luton Town
17 March 1973, Roker Park, Sunderland
Attendance: 53,151               Receipts: £26,106 (Roker Park Ground Record)
Luton town arrived on Wearside with a brilliant away record, and had beaten Sunderland at Kenilworth Road the week before in the League. For Jimmy Montgomery the game was a personal milestone as he made his 453rd league and cup appearance for the club, a record at that time. To mark the occasions the Sunderland Chairman Keith Collings made a special presentation of a Gold Watch to Monty prior to the game.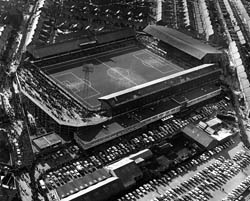 Luton Town had dispatched Newcastle United from the FA Cup in a 4rth round tie at St James Park. The destroyer that day was John Aston.
Bobby Kerr won the toss for Sunderland and started the game attacking the Roker End. The crowd was again vast and Roker Park was once more treated to the almost forgotten spectacle of young children being passed down over the heads of those in front to take their positions at the front of the Roker End. 
For the opening 45 minutes it looked as though Sunderland might struggle to break down a resolute defence but all out pressure was rewarded 10 minutes into the second period with a tremendous headed goal by Dave Watson following a Bobby Kerr in swinging corner.
With 8 minutes remaining Sunderland made it 2 v 0. Hughes took a corner kick on the left that was headed on by Pitt; Guthrie with his back to goal turned to sweep the ball wide of Barber from close range.
Cup form was beginning to really manifest itself in the league with Sunderland embarking on a 6 match unbeaten run, which would see Roker Park, begin to fill with 40,000 crowds. Bob Stokoe had really started something and Wearside was simply frantic with excitement.
Sunderland would face "The Arsenal" in the semi final of the FA Cup. It was evident that it would take something special to stop this wagon from rolling all the way to Wembley.
To reflect this the odds on Sunderland winning the famous trophy tumbled to just 12 to 1.
Sunderland: Montgomery, Malone, Guthrie, Horswill, Pitt, Halom, Hughes, Kerr, Watson, Porterfield, Tueart Sub: Bolton
Luton Town: Barber, John Ryan, Thomson, Shanks, Garner, Moore, Jim Ryan, Anderson, Busby, Hindson, Aston (Hales)
Referee: J Taylor, Wolverhampton
__________________________
FA Cup Semi Final
Arsenal 1 v 2 Sunderland
17 April 1973, Hillsborough, Sheffield
Attendance: 55,000               Receipts: £82,500 (FA Cup Semi Final Record)
Sunderland reached the club's first semi final in 17 years, the last North East to do so. At Hillsborough Sunderland were uninhibited, the more eager side, and the one that wanted to win more. There was a belief not only amongst the players but critically amongst the fans that this was to be our year.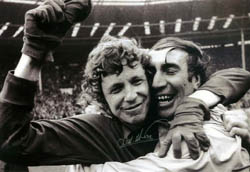 The match was all ticket with Sunderland receiving an allocation of 21,800 and a ballot system was adopted. Seat tickets were priced at £3 and £2 with standing available for 70p. With 3,800 season ticket holders it meant that just 18,000 tickets were up for grabs.
On 28 March 1973 the Sunderland players entered a recording studio in Manchester to record a record "Sunderland All Of The Way". Youngsters from the North East provided the chorus along with local comedian Bobby Knoxall.
Bob Stokoe was dismayed to learn that Malcolm MacDonald, then a centre forward with local rivals Newcastle United had allegedly expressed a hope that "Sunderland will meet with glorious failure against Arsenal".
Sunderland club scouts Peter Doherty and Peter Croker had produced an extensive dossier on Arsenal in the run up to the semi final and the "battle plans" were drawn up at Templefields on the outskirts of Buxton where the Sunderland party was camped.
Sunderland adopted an all white strip for the game at Sheffield with Arsenal changing to yellow and blue. There was a good omen for the North East side in the run up to the game in that the last time the 2 teams had met in the FA cup, January 1961, Sunderland had dispatched The Gunners 2 v 1.
Arsenal's route to the semi final had been slightly less arduous than Sunderland's, 6 games rather than 7, overcoming Leicester city, Bradford City, Carlisle United and Chelsea to take their place at Hillsborough.
Extra tickets meant that about 23,000 Sunderland fans made the exodus for to Sheffield in 9 trains, over 200 coaches and an armada of 2,500 cars. The last train would leave Sunderland at 11.13am and arrive into Sheffield at 2.22pm.
The scene was set.
Ritchie Pitt had been recalled from loan when Young was injured and took up his place alongside Dave Watson. Arsenal were lining up a record third year in a row at Wembley. On their way to the ground the Sunderland Coach encountered slight flurries of snow which turned to light rain.
The teams emerged to a deafening roar and were piped onto the field by the Dagenham Girl Pipers.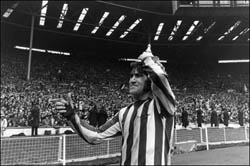 McNab won the toss for Arsenal and Sunderland started the game playing with the advantage of the wind. When Wilson just managed to tip over a drive from Horswill and fell awkwardly there was a stir in the crowd as if the unexpected could happen. A minute later a long ball, wind assisted, had Blockley, bothered by Halom, in a tizz. Wilson came out to help but Halom got the ball past both of them into the net.
Sunderland kept making chances. Only George Armstrong was dangerous for Arsenal and Montgomery saved well from him at the foot of the post. Storey was booked for Arsenal and Halom for Sunderland. At half time Sunderland led 1 v 0.
In the 55th minute Radford entered the field of play as a substitute for Blockley as Arsenal threw an extra man forward. The upshot was to leave themselves open to the counter attack. Nine minutes later Sunderland made it 2 v 0. A throw-in from Kerr, headed backwards by Tueart, drew Wilson, and Hughes back headed the ball on and over him into the net. Two nil.
Guthrie and Charlie George were both booked for an ugly challenge. With Arsenal now desperate for a foothold back into the game they piled forward. For them a reward came just 6 minutes from time when a left wing probe produced a shooting chance for George who hammered in a low drive which Montgomery could only get his finger tips too. The ball slowly but surely crossed the line.
Argus reported that at the final whistle the travelling Roker Roar refused to move until their "Messiah" Bob Stokoe appeared. Taking the salute, he turned and went back to the dressing room - tears running down his cheeks.
For the first time since 1937, Sunderland would compete at Wembley Stadium.
Arsenal: Wilson, Rice, McNab, Storey, Blockley (Radford), Simpson, Armstrong, Ball, George, Kennedy, Kelly
Sunderland: Montgomery, Malone, Guthrie, Horswill, Pitt, Halom, Hughes, Kerr, Watson, Porterfield, Tueart
Referee: D Smith, Gloucester
__________________________
FA Cup Final
Leeds United 0 v 1 Sunderland
5 May 1973, Wembley Stadium, London
Attendance: 100,000
In the run up to the final there was, as predicted, a huge scramble for tickets, with the lucky few getting hold of them in London on the day of the match. For the rest of the non season ticket holders there was the prospect of a ballot draw from the forms issued at the Carlisle United and Bristol City home games.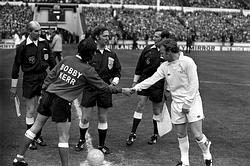 Sunderland spent the days before the final at the Selsdon Park Hotel in Surrey where they sized up the formidable opposition they were about to face. Predictably Leeds United were quoted at 3 to 1 on to win the final with Sunderland at 5 to 2.
Sunderland's youth Team were hoping to get the week off to a good start but they succumbed to defeat by local rivals Middlesbrough in the two legged Northern Intermediate League Cup Final. Trailing 4 v 5 on aggregate Jackie Ashurst had the chance to draw level with a penalty, but blazed the ball over the bar.
For bob Stokoe the cup final would be his 16th cup tie of the season, 7 with his former club Blackpool. The Sunderland team would be the same as the semi final, bar the substitute. With Brian Chambers now an Arsenal player, David Young would be the 12th man for Sunderland.
In Scotland the Cup Final was contested by Rangers and Celtic. The Gers triumphed 3 v 2 in front of 122,000 (the last of such big crowds in Scotland) with the winning goal scored by Tam Forsyth.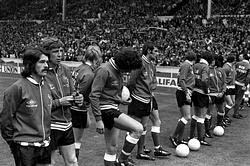 In England the jubilee FA Cup final took place on 5 May 1973. In years to come the question for every Sunderland fans was, "where were you at 3:31 pm?" With the President of the Football Association, HRH the Duke of Kent in attendance Wearside took on the might of Yorkshire and Leeds United. Quite simply The Peacocks were a "football machine" and were one of the most feared sides in Europe, with an international competing for every place. They had come a long way since their promotion in 1964.
Oddly enough the 2 Managers found then on opposition sides again with Don Revie and Bob Stokoe having contested the 1955 Final when Newcastle United took on Manchester City. Sunderland had played Leeds United before in the FA Cup, 1926/27 and a 3 match marathon in 1967, all won by the Yorkshire side. In the run up to the final Sunderland had used 17 players.
In the twenty days before Wembley Sunderland played eight League games, giving them a return, since Bob Stokoe took over, of 30 points from 22 games - promotion standard. The nation had taken Sunderland to their hearts. And the boys did not disappoint. They were without awe of Leeds; they chased them, they looked for goals.
Bobby Kerr won the toss for Sunderland and elected to defend the end where the Leeds United fans had massed. As if to prove the lack of fear on the part of Sunderland Ritchie Pitt scythed down Allan Clarke early on. Reputations counted for nothing in this game.
After half an hour Harvey in the Leeds goal, lifted a lob from Kerr over the bar. The corner from Hughes was sent back into the centre by Halom, and Porterfield bringing the ball down with his left thigh turned a little and hit it hard with his right into the net.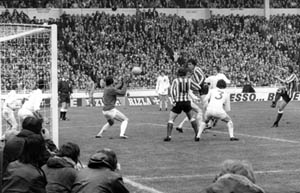 Montgomery's famous double save was in the second half when Jones switched play to Reaney on the right. Reaney's high cross to the far post was met by Cherry with a diving header which Montgomery lunging himself to the left knocked out, but only to Lorimer on the six-yard line. Lorimer hit it quickly and cleanly into the apparently empty space on the other side of the goalkeeper. Montgomery managed to throw himself that way and jerk the ball upwards with his right arm. It struck the underside of the bar and came out wide and Malone thumped it miles away.
It was now believable that Sunderland could win. Leeds built-up attack after attack, but Sunderland's rear four were commanding. Every clearance was cheered. For some the tension was unbearable and they left their places and paced about under the stands, at home some people had to leave their television sets.
Everyone except the unfortunate folk from Leeds wanted the final whistle to blow and when it did there was one of the greatest roars ever at Wembley. Bob Stokoe, his short white mackintosh billowing, raced across to Montgomery.
Danny Blanchflower wrote that the game was the most emotional he had known. The Sunday Express said Wembley had never seen such ecstasy. The nation enthused. Back in Sunderland many people ran out; there was impromptu dancing; cars appeared, drivers just sounding their horns. The centre of the town became impassable. That night was just about the most joyous the old town had known. Don Revie, who took defeat well, said that Montgomery's save was the best he had seen, and that Sunderland's strength and enthusiasm in the first half had unsettled his side.
Leeds United: Harvey, Reaney, Cherry, Bremner, Madeley, Hunter, Lorimer, Clarke, Jones, Giles, Gray (Yorath)
Sunderland: Montgomery, Malone, Guthrie, Horswill, Pitt, Halom, Hughes, Kerr, Watson, Porterfield, Tueart
Referee: Ken Burns, Stourbridge
__________________________
Finale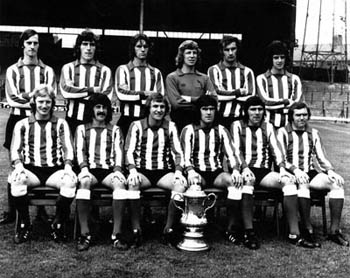 Sunderland became the first second division side to win the FA cup since West Bromwich in 1931. Burnley (1947), Leicester City (1949) and Preston North End (1964) had also tried but failed.
An open top bus parade saw the red and white heroes greeted all the way from Carville to Roker Park. It was estimated that 500,000 people welcomed them home, with even horses and dogs decked out in red and white!
To put the final win into perspective Leeds United subsequently travelled to Salonika, Greece where they were narrowly defeated by AC Milan in the cup winners' cup final, after a dubious refereeing performance. They ended 3rd in the League, and the following season would be English champions.
An interesting postscript to the 1972/73 season is a look at the club Report and Accounts for the financial year ended 31 May 1973. It shows that despite the cup run and a final placing SAFC Limited still made a loss of £12,065 although this was a much improved situation on the previous year when a £103,080 loss was evident. Bearing in mind that in the next financial year we made a profit of £181,078 it is assumed that the income from the final and perhaps the semi final were not credited to Sunderland's Bank Account by, presumably the football Association, until after 31 May 1973.